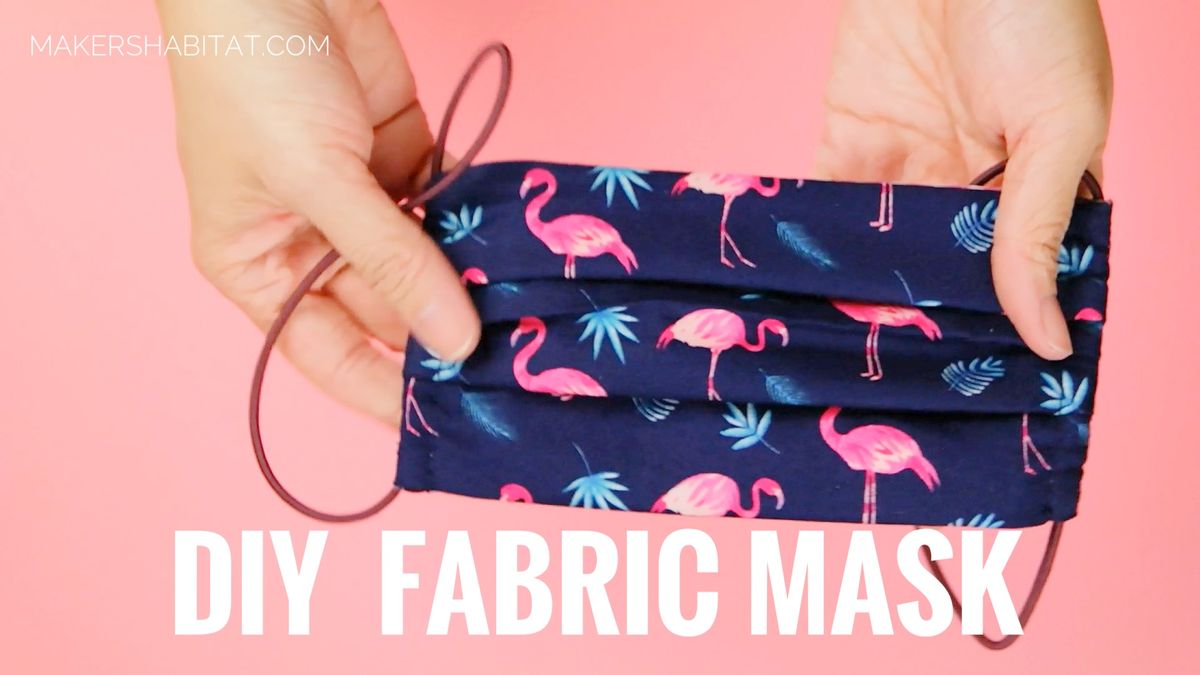 Would you fight for toilet paper, or surgical masks?
With the Covid-19 outbreak, people are clamouring to get their hands on surgical masks, hand sanitizers, and toilet paper. Since we can't sew hand sanitizers, and (wouldn't want to sew) toilet paper, we're left with surgical masks to experiment on. Teacher Yusa shared this article by a Taiwanese doctor on making fabric masks that are washable and reusable, and I got very intrigued.
I've always been skeptical of fabric masks as they do not provide enough protection. However, Dr Chen Guanting advises on his Facebook post that if you're not actually sick, a fabric mask will suffice as a form of general protection, as long as there is a non-woven layer inside the mask. The non-woven layer acts as a filter.
What can you use for the non-woven filter layer? Dr Chen recommends searching for a non-woven material that can be easily purchased and replaced on a daily basis for hygiene purposes. Some ideas:
Non-woven gauze
Polyester dry sweeper wipes
Dried-out, unscented wet wipes
Currently at our sewing classes, as instructors, we have been wearing masks to avoid any surprise droplets . Although we do take temperatures of students, some things can be out of our control, such as a walk-in customer who may suddenly cough our way. We also find that we touched our face less when we have our fabric masks on.
Dr Chen recommends the following:
Wash fabric masks daily
Replace non-woven layer with a fresh one-- do not reuse!
Do not wear masks if you have respiratory illnesses
Save the surgical masks for medical professionals who are on the front line of healthcare, and use them only when you need to
Washing your hands often-- it's more important than wearing a mask.
Fabric masks need to be washed and worn carefully as you would a surgical mask:
Wash and dry your hands before putting on and removing the mask
Be careful that you don't contaminate the inside of the mask, ie don't pull the mask down to rest on your chin
Practice good hand hygiene as best as you can!
Any type of masks (N95, surgical, fabric) shouldn't be worn too long. When it gets damp, you should replace it. So, if you're sweating a lot, prepare replacement masks.
We can't stress it enough that it's very important to understand what a fabric mask can and cannot do for you. Please use a surgical mask for better protection when:
You are sick and have to be around other people
You are healthy and you're heading to a very high-risk crowded area or a place with sick people

Additional reading:

1. Dr Chen's response on the usefulness of fabric masks with replaceable non-woven filters (please use the "See Translation" button if you can't read Chinese).

2. While fabric masks will not offer the full protection of a surgical mask, a peer-reviewed study by Cambridge found that regular fabric masks (referring to ones without filter pockets) have shown to be able to capture at least 50% of 0.02 micron Bacteriophage MS2 particles (5 times smaller than the coronavirus). Source: https://smartairfilters.com/en/blog/best-materials-make-diy-face-mask-virus/ , and https://www.researchgate.net/publication/258525804_Testing_the_Efficacy_of_Homemade_Masks_Would_They_Protect_in_an_Influenza_Pandemic

3. CDC has recommended homemade masks (referring to the ones without filter pocket) when medical grade PPE supplies are exhausted. Source: https://www.cdc.gov/…/2019…/hcp/ppe-strategy/face-masks.html
Since 14th July 2020, CDC has since urged Americans to wear cloth masks (referring to the ones made without filter pockets) to prevent the spread of Covid-19. Sources: https://www.cdc.gov/coronavirus/2019-ncov/prevent-getting-sick/about-face-coverings.html , and https://www.cdc.gov/media/releases/2020/p0714-americans-to-wear-masks.html

4. How DIY masks can help flatten the curve: https://www.washingtonpost.com/outlook/2020/03/28/masks-all-coronavirus/

5. New scientific rationale on Covid-19 transmission via large droplets that can travel as far as 6 meters away shows that the recommended social distancing of 1.5 - 2 meters will work better hand-in hand with universal mask wearing as an infected person can be asymptomatic. Comparisons of performances are made between a tea towel homemade mask, a surgical mask, and an N95 mask.
Source: https://medium.com/@Cancerwarrior/covid-19-why-we-should-all-wear-masks-there-is-new-scientific-rationale-280e08ceee71

6. As part of efforts to contain the spread of Covid-19, China, Taiwan, HK have encouraged universal mask-wearing (ie, not just for the sick). Czech Republic has also followed suit-- in the words of the Mayor of Prague: "Whether you have medical masks, self-made masks, or use a scarf, anything is better than nothing." Source: https://www.praguemorning.cz/face-masks-now-mandatory-in-all-prague-shops-and-offices/ , and https://www.youtube.com/watch?v=jZtEX2-n2Hc #masksforall

7. Some hospitals in the US have asked the public to sew fabric masks for them due to shortage of surgical masks. We encourage all sewists who would like to contribute to first check with your local healthcare providers on whether they would need/accept fabric masks. For example, in Taiwan hospitals they do not encourage the use of fabric masks (take note that they also do not have a shortage on surgical masks). If you are making them for a hospital in need, make them with these filter pockets as an extra protection barrier.


Our DIY video has been shared by people in the healthcare industry, and we hope you will find it useful. It's easy enough for someone with basic sewing skills to attempt in the comfort of your own home.
Ready to sew your own fabric mask? Watch our tutorial below: