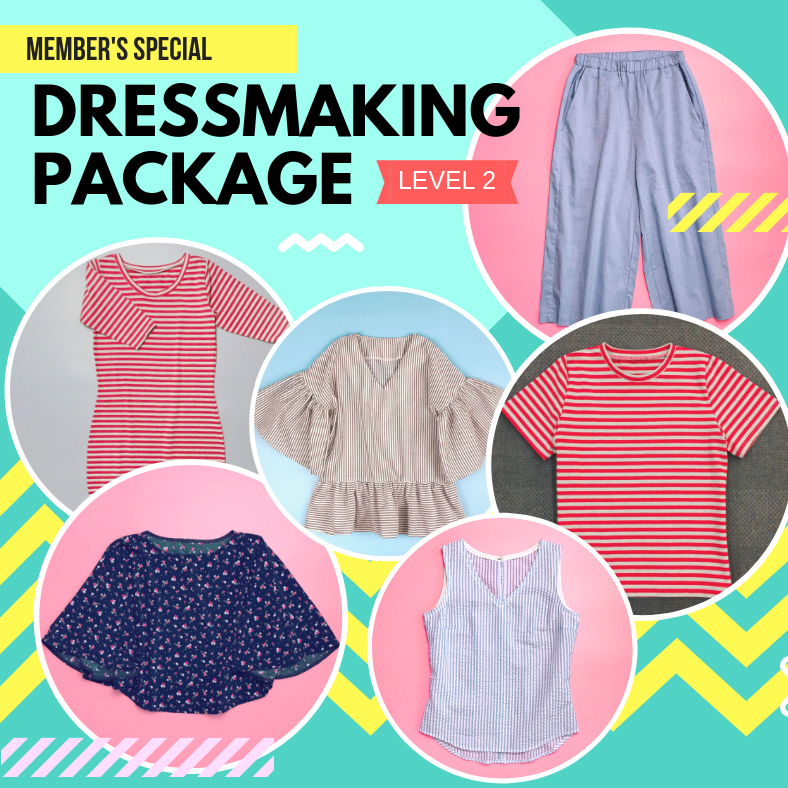 Dressmaking Course - Level 2
Class duration: 28.5 hours
Ready to up your game? Take on Level 2 of our dressmaking course where you'll learn more sophisticated garments and techniques. You won't need to shop for clothes anymore!
In this course, you will get to choose 4 out of 6 of the garments below:
Magnolia Blouse - Learn how gathers / frills are made that can be applied on sleeves and hems

Niko Pants - Make a wide-legged pants with front pockets. Understand how to measure and sew crotch curves

Stacey Blouse - Learn how get a perfect fit on a blouse using darts

Circle Top (poly/rayon) - Learn how to work with soft polyester / rayon in this butterfly-sleeve top

Avery Tee (knit) - This unisex t-shirt can be made for both kids and adults. Learn how sleeves are sew onto knits.

Dylan Dress (knit) - You can make this three-quarter sleeve dress fitted or flare. Learn how to adjust and alter the pattern for a fit that's perfect for you.
Total class hours = 27 - 28.5 hours (depending on projects selected). Select the time and date from the Event Calendar. We are also flexible to work according to your availability.
Price: RM1390, includes all fabric, materials and usage of tools. This course is only for members. Join our membership for RM10/year.
* If students are unable to complete their project within the class hours, they can continue finishing their project on a sew by the hour basis of RM50/hour.

* Classes purchased are valid for 6 months from the date of purchase. *
* Cancellation or rescheduling must be made 24 hours in advance or the class will be forfeited. *
**Do contact us to check on availability before booking. Classes need to be booked at least 2 days before.