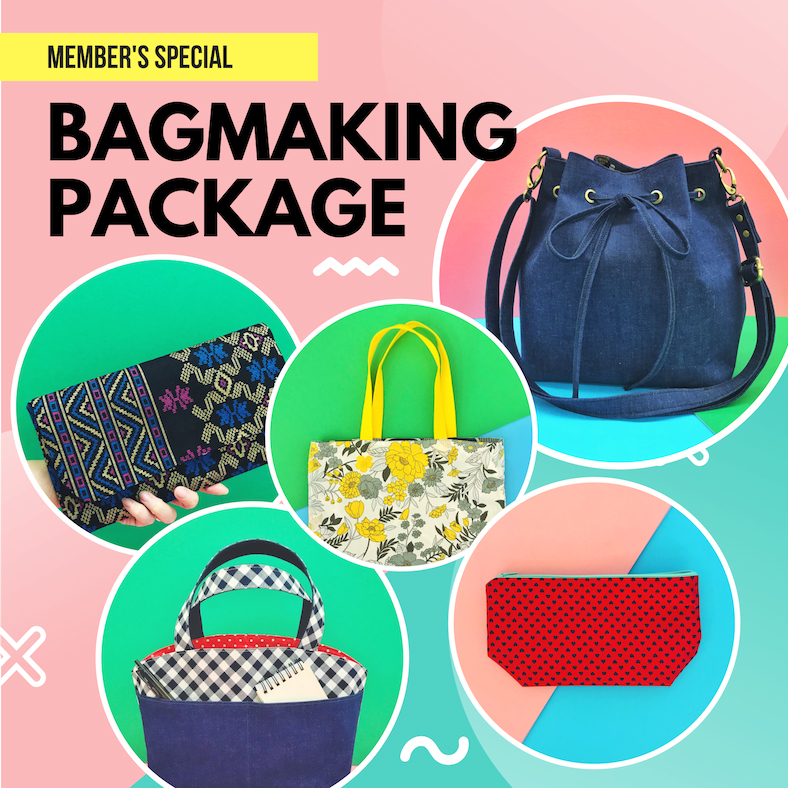 Class duration: 24 hours
If you're crazy about bags (like us), this package is just for you! Start with a basic tote bag and move up to make a bucket bag. At the end of it, you'll have a bag for every occasion.
No experience in sewing required at all ;)
Here's what you will learn:
Machine Sewing 101 - An introduction class for newbies to learn how to setup and operate a sewing machine

Reversible Tote Bag (Super Starters) - Your first handmade project that will help you get used to sewing straight lines.

Zippered Pouch (Super Starters) - Learn how to insert a zip and use interfacing, both are basic essentials to sewing.

Megan Clutch - Learn how to use heavy weight interfacing and insert in magnetic closures
Louise Tote Bag - Make a structured bag with outer slip pockets and inner zippered pocket
Brooklyn Bucket Bag - Learn the different uses of light and heavy-weight interfacing, attaching bag hardware and making your own straps
Total class hours = 24.5 hours. Select the time and date from the Event Calendar. We are also flexible to work according to your availability.
Price: RM1050 (regular price RM1255), includes all fabric, materials and tools. This course is for members only. Join our membership for RM10/year.
* If students are unable to complete their project within the class hours, they can continue finishing their project on a sew by the hour basis of RM50/hour.
* Classes purchased are valid for 6 months from the date of purchase. *
* Cancellation or rescheduling must be made 24 hours in advance or the class will be forfeited. *
**Do contact us to check on availability before booking. Classes need to be booked at least 2 days before.