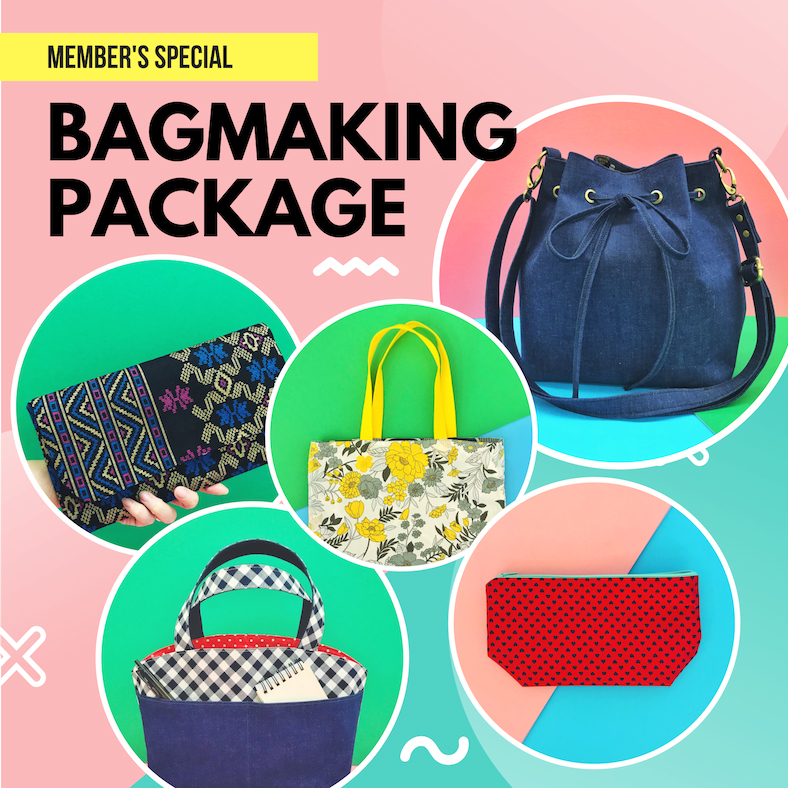 If you're crazy about bags (like us), this package is just for you! Start with a basic tote bag and move up to make a bucket bag. At the end of it, you'll have a bag for every occasion.
No experience in sewing required at all ;)
Here's what you will learn:
Machine Sewing 101 - An introduction class for newbies to learn how to setup and operate a sewing machine

Reversible Tote Bag (Super Starters) - Your first handmade project that will help you get used to sewing straight lines.

Zippered Pouch (Super Starters) - Learn how to insert a zip and use interfacing, both are basic essentials to sewing.

Megan Clutch - Learn how to use heavy weight interfacing and insert in magnetic closures
Louise Tote Bag - Make a structured bag with outer slip pockets and inner zippered pocket
Brooklyn Bucket Bag - Learn the different uses of light and heavy-weight interfacing, attaching bag hardware and making your own straps
Total class hours: 24.5 hours. Select the time and date from the Event Calendar. We are also flexible to work according to your availability.
Price: RM1050 (regular price RM1255), includes all fabric, materials and tools.
*This special package is for members only. Member discount or other promotions cannot be applied on this class. If promo code is used during purchase, the difference will be charged upon confirmation of class, else, purchase will be denied. Membership is at RM10/year, you can sign up here http://makershabitat.com/pages/membership
**The Bagmaking course is valid for 6 months from date of purchase.
Please read our full T&Cs before purchasing - http://www.makershabitat.com/pages/terms-conditions